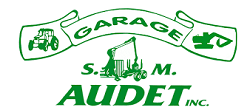 Other Services
Chaudière-Appalaches
---
Number of employees: 10
Website
Garage S.M. Audet inc.
Founded in 1946 in Sainte-Claire, Garage S.M. Audet sells and installs forestry equipment. A Kesla dealership for over 30 years, the company also repairs and services equipment like excavators, industrial or agricultural machinery (e.g., weed trimmers), and new and used parts.
The business employs around a dozen people.