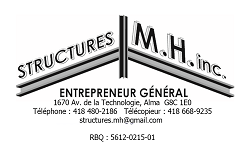 Construction
Saguenay - Lac-Saint-Jean
---
Number of employees: 15
Structures M.H. inc.
Founded in Alma in 2010, M.H. Structures is a specialized renovation and structural steel building contractor producing and distributing steel structures for later assembly by clients in the residential, commercial and industrial sectors.
Home to some 15 employees, Structure M.H. also offers construction project management and coordination services.